Karen Cheatham, Ph.D.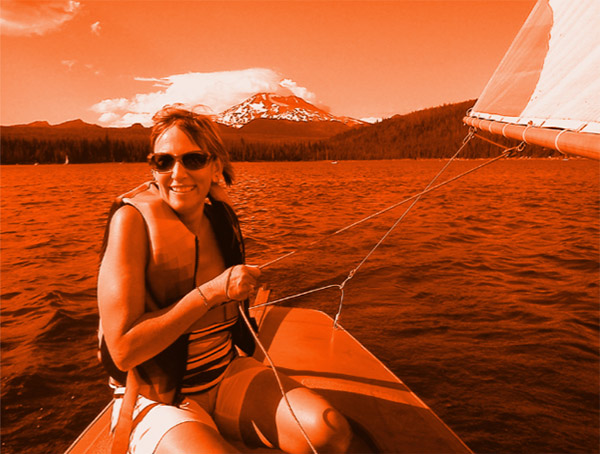 Nimble Ink is an Oregon-based company providing professional copywriting and technical writing to clients in Bend, Oregon and all over the world since 2012. Owner/writer Karen Cheatham is a Ph.D. with more than 10 years of professional technical writing and marketing writing experience and another 10 years of academic writing experience.
I'm a writer and a creator of words that flow and pack a punch. I'm a master of transforming tangled sentences into order, calm, and meaning. I use my words to help other people tell stories, educate, explain, sell, inform, and, all in all, sound amazing. I love my husband, my family, and my weird cats (the one curls her tail like a pig and the other… where to begin). Sunny fall mornings, crackling fires, and snow make me smile. I'm a slayer of weeds and a try-to-be home renovator with a taste for mid-century modern and industrial peppered with oddities. I'm also a knitter, but for the record, I've never made a tea cozy—not even ironically. Snowboarding (but lately, mostly just on perfect days), loud music, running (slowly), enjoying a beer at a pub, and eating yummy food… all of that.
I've been a writer my whole life. In elementary school and middle school, I handed in stories to my teachers, even when they hadn't been assigned. In high school and at university I wrote short stories and poetry and took fiction-writing and ad-writing classes. As an undergraduate, I majored in the humanities. Before I knew it, my B.A. degree had led to an M.A. and eventually a Ph.D. That's a lot of writing!
University Professor
While completing my doctoral work, I found a teaching position at a liberal arts college in Washington State. There, I developed and taught introductory and advanced courses in the humanities. My time teaching as Visiting Assistant Professor was exciting and intense, but after two years I decided to refocus on writing.
Writer, Editor, Researcher
Ph.D. work demands and sharpens a number of skills—especially writing, editing, critical thinking, researching, and knowledge acquisition. I'm also a creative person who thrives on finding just the right way to express an idea. Those were the things I was passionate about, and I wanted to find a career that would let me use them regularly
Freelance Technical Writer & Copywriter
I soon hit upon the perfect profession—technical writing and copywriting. After some thorough education about the specifics of these writing styles, I began producing grants, marketing materials, user manuals, and website content for a variety of companies in diverse industries.
Then, in 2011, I found a position as Technical Writer for a software company that specialized in government regulatory software in Bend, Oregon. There, I wrote RFP technical proposals, white papers, case studies, and web content, edited documents, and more.
I still live in Bend, but now I'm my own boss and am serving the copywriting and technical writing needs of local, national, and international businesses and individuals as Nimble Ink. As a freelance writer, my goal is to help people communicate better and make their lives easier. While I don't know everything, I am a quick study, a skilled researcher, and I know how to ask the right questions. I keep my clients happy by being easy to work with and by producing the clear, accurate, and compelling content they want, when they want it. How can I help you?!